In Australia, it is quite simple, if ungrammatical and plain stupid. A bureaucratic body ( the Geographical Names Board) decided back in 1966 that no Australian place names should contain apostrophes.  This means we are stuck with wrong-looking (and, in my view, plain wrong) names such as Devils Marbles (thankfully, we can use the Indigenous name, Karlu Karlu for that), Cooper Creek, Surfers Paradise, Crows Nest, Kings Cross, St Helens, St Georges Terrace, and the grammatical and spelling abomination that is the Melbourne suburb of Fishermans Bend (the Tasmanian town of St Marys is probably the second most grammatically appalling Australian place name). From mountain ranges and rivers through suburbs and down to the tiniest creek and laneway: no apostrophes, ever.  This rule does not apply to individual buildings, so St Paul's, St Patrick's and St Mary's cathedrals, for example, retain their apostrophes.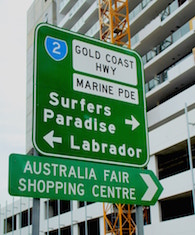 A similar situation applies to place names in the United States of America, although five American place names, including Martha's Vineyard, have been allowed to have apostrophes (for more information on these, read this excellent article by Paul Anthony Jones). But the United Kingdom retains its apostrophes: King's Cross in London (unlike Kings Cross in Sydney), for example, does have an apostrophe.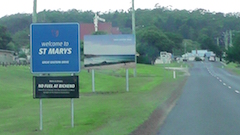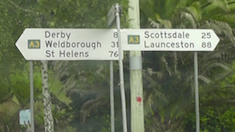 The official name of Keoghs Creek in Tasmania has no apostrophe. While signwriters are often criticised for incorrect usage of apostrophes, this 'error' is one I am personally delighted to see.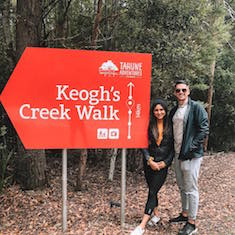 If you have found this post interesting, you can find a full index to my other posts on the index page. To be notified when I post a new topic, follow me on Facebook! If you have any particular questions you'd like me to answer in future posts, just  send me a message.  I'm always interested to learn what people think, and how you came across this site, so please post a comment.
If you think you would be interested in either my complete grammar course or an individual customised online course (particularly suited for people who don't live in Melbourne), just click your preferred option.
Photos:  Surfers Paradise sign by Tanisha Ngo on Unsplash; Fishermans Bend sign © CBRE Melbourne; Keogh's Creek Walk courtesy of Shane McKeogh; all other images copyright and courtesy of Garry Coxhead