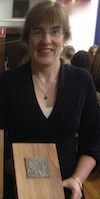 Apostrophes, Etc.® brings you the services of one of Australia's most experienced editors and communications trainers to improve the quality of your communications, whether in print or digital form.
Susan Keogh, MBA, DE, is an award-winning editor who has taught grammar, editing and proofreading skills to postgraduate students at RMIT for a decade, while also providing services to the corporate and publishing sectors. Through Apostrophes, Etc. she provides both training in sound communication and editing services.
Susan began her editing life in the last millennium, working in-house for Melbourne University Press, Lonely Planet and Cambridge University Press. She has been a member of the Australian Publishers Association copyright and training committees, and is an honorary life member and former president of the Society of Editors (Vic) Inc. (now Editors Victoria). She was the recipient of the 2014 FAW Barbara Ramsden Award, recognising the role of editors in producing quality literary works and has been awarded the status of Distinguished Editor by the Institute of Professional Editors (Australia's peak body for editors). She has taught editing skills in all Australian states and in Singapore, to corporate clients, publishing industry associations and university students.