The simple answer (for words that are always hyphenated) is to check in a dictionary: if a word is always hyphenated, it will be listed.  If the word you are looking for isn't there (for instance, game-plan), the odds are in favour of it in fact being two separate words (game plan).
There is another group of words that are sometimes hyphenated, and sometimes not. Editors make part of their living understanding the difference and marking these hyphens. The rule of thumb is that if you have three words, and the first two together describe the final word, they are hyphenated: for instance, match-day strategy.  You can tell if a hyphen is needed by leaving out the first and second words in turn. It's not a match strategy, or a day strategy but a match-day strategy.
If you have only two words, such as match day, they generally aren't hyphenated: It was a strategy we saved for match day.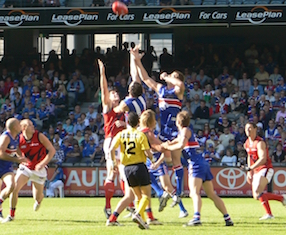 Make sure you can distinguish between your game plan and your match-day strategy!
In technical terms, hyphens are used in compound attributive adjectives but not in predicative adjectives.
If you find this confusing and you have an important document for publication, consider hiring an editor or proofreader to check your hyphens for you.

If you have found this post interesting, you can find a full index to my other posts on the index page. To be notified when I post a new topic, follow me on Facebook! If you have any particular questions you'd like me to answer in future posts, just  send me a message.  I'm always interested to learn what people think, and how you came across this site, so please post a comment.
If you think you would be interested in either my complete grammar course or an individual customised online course (particularly suited for people who don't live in Melbourne), just click your preferred option.
Photo: Footscray v Melbourne at Telstra Dome by rulesfan, on Wikimedia Commons