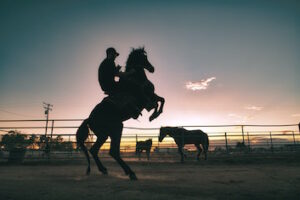 'She was raring to get out today.' Cora adjusted her hat over her short crop of salt-and-pepper hair … 'We'll have them back in a couple of hours. I'm raring myself. It's been a while since we rode around the property.'
—Nora Roberts, Come Sundown
Like go to whoa and champing at the bit, 'rearing to go' is a horse-related expression that has been mangled by people who know nothing about horses. Unfortunately, with this expression, ignorance has won out.
When a horse stands on its hind – or rear – legs, it is rearing. The verb to rear is conjugated like any verb: rears, is rearing, reared, has reared and so on.
What is interesting about this verb is that it has two pronunciations: the standard rear, which rhymes with gear, but it is also sometimes pronounced to rhyme with air. And it is from this second pronunciation that the idea has grown up that the word is spelt rare or raring.
When horses are impatient to be off – something that is common at the start of a race – they will often stand on their hind legs. And this is why we have the expression rearing to go – except that no one spells it that way. The second, rarer, pronunciation, has become a phonetic misspelling: raring to go. The Macquarie Dictionary uses this spelling, while noting that it is a variant of rearing.
The weird thing is that this spelling is used only for the present participle (–ing) form: you never see a sentence that says The horse rared up in the starting gates or That horse always rares when we get to the spot where we gallop. And while the Macquarie Dictionary recognises raring as an adjective (technically a gerundive), you will search its pages or online database in vain for the verb to rare.
At three o'clock tomorrow afternoon, there will be 24 horses raring to be off . . .
Melbourne Cup tips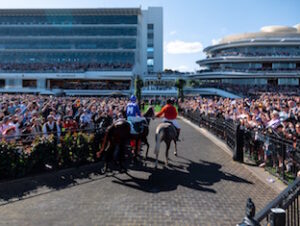 The Cup fields, like me, are getting older. There is an astonishing – for me, at least – number of horses aged seven and eight running in the Cup this year. I really think horses of this age are too old to win.
Who do I think will win? My top picks are the French mare Lastotchka and the Adelaide Cup winner, Daqiansweet Junior (Daqian – pronouned da-sharn – is apparently Chinese for 'big money').  Gold Trip could well win again but I just think he's too old.
I'll be taking an eight-horse box trifecta this year: $34 for 10 per cent of the payout.  My picks are these:
no. 1 – Gold Trip (class horse)
no. 3 – Without A Fight (in form)
no. 6 – Soulcombe (has been aimed at this race for the last year)
no. 8 – Right You Are (in good form and his father – So You Think – is one of my all-time favourite horses)
no. 12 – Daiqansweet Junior (excellent record at this marathon distance)
no. 13 – Okita Sushi (can run the distance, has a great second-up record, and a top trainer)
no. 15 – Lastotchka (has won a race just 100 metres shorter, and has a top jockey in Craig Williams)
no. 17 – Military Mission (in form).
Yes, like last year, I have left out the favourite (this year, it's Vauban).  He has never won his first race after a break, and this is his first race after a break, and, while he has never been out of a place at his 5 runs over the Cup distance, I think he's too slow. The rank outsider, True Marvel (no. 24), won a jumps race over the same distance earlier this year in a quicker time than Vauban usually runs. And I'm not a fan of foreign jockeys who fly in for just the one race or the one day. That's too many strikes for me.
I should also point out that both Right You Are and Daqiansweet Junior have to come out of what are statistically two of the least successful barriers in Cup history. I really don't like the fact that Okita Sushi's jockey is still an apprentice but I do respect the trainer, Joe O'Brien. Lastotchka has never won first up. (There's a lot to take into consideration! In fact, there's a reason every horse in the field can't win!)
I agonised over whether to include no. 17 (Military Mission) or no. 21, Future History, as my last pick. In the end, I feel Military Mission has a better jockey, a better barrier and comes from a stable (Gai Waterhouse and Adrian Bott) that is in top form, with two winners on Derby Day.
Will this make any money?  If I have picked the first three in this group, pretty much. If the first three end up being the shortest-price horses – Without A Fight, Gold Trip and Soulcombe – you will get most but not quite all of your money back (down about $3, according to what the TAB website is estimating now).  If the first three horses are Okita Sushi, Daqiansweet Junior and Right You Are (in that order), the estimated 10 per cent dividend is $7,000.  Yes, that would be nice . . . All other combinations, assuming I have them, will be somewhere in between.  Last year, I picked 2nd and 4th, so no collect . . .
You could also take the same horses in a boxed First 4 — $17 for 1% of the payout. Last year that would have been a return of $1,ooo (had I managed to pick the first four horses, which I didn't).
And hey, I will have $1 each-way on True Marvel at 125/1 – probably an even longer price tomorrow. I backed him when he ran second in the Sydney Cup earlier this year at 150/1 . . .
If it rains . . .
If the heavens open, the rain pours down, and the track becomes bog (rated as 'slow' or 'heavy'), the plan changes. My eight horses then become the following:
no. 3 – Without A Fight; no. 6 -Soulcombe; no. 8 – Right You Are; no. 15 – Lastotchka; no. 17 – Military Mission; no. 20 – More Felons; no. 21 – Future History; no. 24 – True Marvel.
Post script
So . . . Without A Fight won, Soulcombe came second, and Daqiansweet Junior came fifth . . . no big prizes for that combination.

If you have found this post interesting, you can find a full index to my other posts on the index page. To be notified when I post a new topic, follow me on Facebook! If you have any particular questions you'd like me to answer in future posts, just  send me a message.  I'm always interested to learn what people think, and how you came across this site, so please post a comment.
If you think you would be interested in either my complete grammar course or an individual customised online course (particularly suited for people who don't live in Melbourne), just click your preferred option.
Image: rearing horse by Venti Views and Winx returning to scale after winning the Turnbull Stakes at Flemington by Josh Chiodo, both on Unsplash